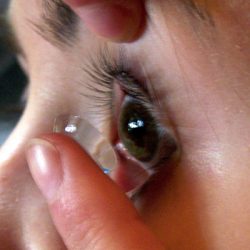 Lohman Eyecare Associates is one of the premier providers of contact lenses in Boston Heights, OH. We're proud to fit even the most challenging patients with contact lens solutions that meet their individualized vision needs. Rely on us to identify and implement a contact lens solution that improves your vision.
There are several different types of contacts available; each style is designed to fit different lifestyles and patient needs. During your contacts exam, a member of our team will discuss the benefits and drawbacks of different contact types.
Before you begin a contact exam, it's necessary to complete a comprehensive eye exam. During the contact exam, we'll look at the following:
Eye surface measurements:

Before deciding the type of contact lens best suited for your use, the doctor will measure the physical surface of your eyes. Because contact lenses are placed directly onto the eyeball, it's imperative that they're both comfortable and accurately measured.

Tear film evaluation:

If you already suffer from dry eyes, contact lenses may not be for you. The doctor will examine the tear film on your eyes to ensure they're capable of supporting contact lenses. If your eyes are slightly dry, your optometrist may recommend specialized, extra-breathable lenses.

Lens fitting:

During your contact lens fitting in Boston Heights, OH, the optometrist will furnish you with a pair of trial contacts and observe the way that they fit over and move with your eyes. After wearing these trial contacts for one week, the doctor will make a final determination.
Rebates
If you're wondering what brand and style of contact may be best suited for you, we have trial samples from the following brands available at our clinic for your convenience: CooperVision, Air Optix, Acuvue and Bausch + Loam.
Cooper Vision Rebate Vistakon Rebate
Invest in Contacts
Stop fiddling with your glasses and invest in an unobtrusive eye care solution. Contact Lohman Eyecare Associates today at (330) 341-7015 to schedule your exam for contact lenses and to determine which contacts are best suited for your prescription and your lifestyle.